DINNER & CONCERT PACKAGE
Enjoy classical music at its best and exquisite cuisine with our packages and let us pleasure you with an unforgettable evening in Vienna!

Mozart V.I.P. Ticket
This package includes:
Gourmet menu" (four-course meal, drinks not included)
at the restaurant Opus (Hotel Imperial) at 6:00 pm
Fiaker drive from the Restaurant Opus to the concert hall
1 best category ticket for the Vienna MOZART Concert
1 glass sparkling wine or an orange juice
an opportunity to talk to the performers
1 programme
1 CD of the Vienna Mozart Orchestra
Attendance by a Mozart page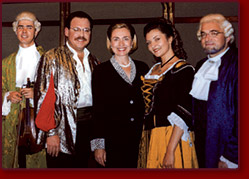 "The meals are composed by the chef himself [...]
They rank among "the Best",you can get
on your plate in Austria "
Gault Millau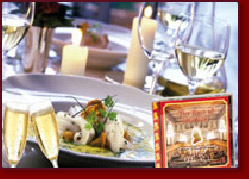 Delightful Vienna Pass
This package includes:
A glass of sparkling wine as welcome drink
Three-course meal at the restaurant "Bristol Lounge"
at 6:00 pm or 10:15 pm
Ticket for the Vienna MOZART Concert
in cat Superior, cat A, B or C, begin at 8:15 pm
"Golden Collection CD" by the Vienna Mozart Orchestra
Your way to the restaurant Opus and to the Restaurant "Bristol Lounge":